Want to improve your use of Social Media?

Our online social media training courses will help you develop your knowledge and skill in the use of Linkedin, Twitter, Blogging, Facebook for business and SEO.
Social Media tools have given businesses the opportunity to strengthen the relationship and two way communication between a company and their stakeholders. Research* shows that the higher the level of engagement the greater the impact on sales, customer satisfaction and product reputation.Our video based interactive online courses will provide you with the opportunity to understand how to make best use of social media to engage with and increase your audience.
The online courses are practical and will give you simple techniques to enable you to use Twitter, Linkedin, Blogging and Facebook to start engaging with those who are interested in your products and services.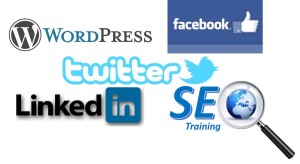 The courses are ideal for those who are relatively new to using social media for business and want to understand how best to create your social media brand. The courses will explain in simple language how to establish you and your business and start building your online network. By clicking on the link, register here , you can view the first module on our courses for free. You can work at your own pace and quickly move up to the next level in your use of LinkedIn, twitter, facebook and blogging – why not start today by clicking the link and registering? 🙂
*Tom Funk: Social Media Playbook for Business: Reaching Your Online Community with Twitter, Facebook, LinkedIn, and More